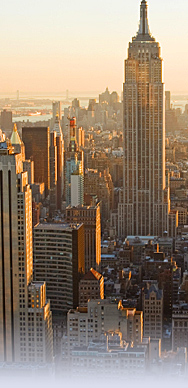 Time In NY

It truly is a wonderful experience to spend time viewing the sights and skyscrapers of New York from the water. There is no finer way to spend your first day in NY, taking a boat ride around Manhattan, while you find your bearings and enjoy your first taste of this beautiful city.

NY is a big city. There are actually five boroughs: Manhattan, Brooklyn, Queens, The Bronx and Staten Island. The city is a world center for commerce, technology, education, entertainment and the arts. And as the international base of the United Nations, NY is also one of the world's major political centers. So there is so much to see, so much to learn. You'll need plenty of time to try to absorb it all!

Spending time in NY is a rewarding and valuable experience. There are many world famous skyscrapers and bridges. There are magnificent art galleries and theaters. There are great spectacles and scenery to see and delicious food to sample from the myriad restaurants. There is arguably the most cosmopolitan and culturally diverse population in the world. Small wonder then that NY is sometimes called the 'City That Never Sleeps.'

...No matter how much time in NY you have to spend, it will never be enough! Even if you manage to visit the Empire State Building, Grand Central Park, The Statue of Liberty, The Metropolitan Museum of Art, Coney Island, Grand Central Station and The United Nations Headquarters, that will still only be a small proportion of your NY experience.

Climate

If you are planning on spending time in NY, you will want to know what the weather will be like. In summer the July average is around 77 F (25 C) though on occasions it can be much hotter, while in winter the January average is around 32 F (0 C). On some days it can be much colder, and winter snowfall, which varies considerably, may be more than 20 inches (50 cm). But if you need a change of clothing there are many many places to buy stylish clothes, like world famous 5th Avenue in Manhattan, a shopping paradise.

New York Airports

New York has three main airports serving the thousands of flights that arrive in this big city — John F. Kennedy International Airport (JFK), LaGuardia Airport and Newark Liberty International Airport.




JFK is situated at JFK Access Road, New York, NY, south east of Manhattan, and is served by more than 70 airlines. You can connect within JFK's seven terminals, parking areas and hotel shuttle areas by the free AirTrain. You can travel to Manhattan, for example, by AirTrain and subway. The time needed for this trip can be around 1 hour 15 mins.

LaGuardia is located at 100-15 Ditmars Boulevard, East Elmhurst, New York, NY. In the borough of Queens, this is the closest major airport to Manhattan. The airport has four main terminals. You can travel by bus to Manhattan or to connect with subways for other destinations. Within the airport, you can use free shuttle buses.

Newark is situated partly in Newark and partly in Elizabeth at 1 Brewster Road, Newark, NJ. It has three terminals. Newark has an AirTrain to facilitate getting around within the airport. The AirTrain also goes to Manhattan and connects to NJ Transit and various rail lines.

Hotels in NY

As you would expect in such a major tourist destination and international city, NY has more than 500 hotels you can stay in, with a wide range of styles to suit all budgets. Hotels are located in a diverse range of locations around the city.

There are many superb five star hotels in NY where you have to experience the luxury and service to fully believe it! Hotels like the Ritz Carlton Hotel Battery Park at 50 Central Park South and The Surry Hotel at 20 East 76th Street. Then there is the St. Regis Hotel at 2 East 55th Street and Trump International Hotel at One Central Park West.

There is also The Mark Hotel at 25 East 77th Street at Madison Avenue and Jumeirah Essex House at 160 Central Park South. Or there is the Four Seasons Hotel at 57 East 57th Street and the Chatwal Hotel at 130 West 44th Street. Supreme luxury awaits! You're sure to have a great time in NY staying at one of these superb hotels.

At the budget end of the scale you can find hotels like Herald Square Hotel at 19 West 31st Street, which is conveniently located close to the Empire State Building. The rooms are compact but comfortable, and the money you save in award winning hotels like this allows you to spend more on other activities in NY.

Empire State Building

The 102 floor Empire State Building stands, majestically, 1250 feet (381 meters) tall. Topped by its Art Deco tower and observatory, the building is a magnificent example of the architecture of the first half of the twentieth century. The photo at left helps to show its presence and grandeur. If you are planning to spend time in NY this is a "must see" destination. The Empire State has a truly magnificent scale and design, with eye-catching proportions that become progressively narrower as you get to the top. It was famed as the world's tallest building from 1931 to 1972.

Apart from circumnavigating Manhattan by boat (as described at left) visiting the observatory via one of the building's 73 elevators provides a superb introduction to NY. You can see a 360 degree view of the island's 5000 skyscrapers, an unforgettable spectacle. You can see other stately and beautiful buildings, like the nearby Chrysler Building, as well as being able to figure out the geography of Manhattan and its location on the Atlantic Coast. You're sure to have a memorable time in this memorable building.

Statue of Liberty

Standing majestically on New York Harbor's Liberty Island, the Statue of Liberty is one of the world's most famous symbols — a symbol of freedom. The statue depicts Libertas, the Roman goddess of freedom. It was dedicated in 1886 and was a gift from the citizens of France. The statue has truly stood the test of time. Its fame and symbolism has lasted more than a century, and will surely continue. It was actually built in France, and the head was publicly exhibited at the Paris World's Fair in 1878.

You can visit the Statue of Liberty by ferry from either Battery Park in Lower Manhattan or Liberty State Park in Jersey City. Only a limited number of tickets are available each day to be able to climb the statue up to the crown (due to time constraints) and should be booked in advance. To get an idea of the scale of this unforgettable statue, the head is around 10 feet (3 meters) wide.

United Nations Headquarters

The United Nations is an international organization headquartered in NY to work for world peace, human rights, justice, security, global development and progress. The organization was founded to replace the League of Nations in 1945, and now has close to 200 member states. The complex is located in Turtle Bay in Manhattan on the East River, though the site is deemed to be international territory. This is the location of the main UN agencies such as the Security Council and the General Assembly. The UN complex also features beautiful gardens, artwork and sculptures. An essential place to visit for those with an interest in world history and politics.

Metropolitan Museum of Art

"The Met", as it is popularly known, is located on Central Park's east side at 1000 Fifth Avenue at 82nd Street. With over 2 million works of art, it is one of the world's biggest and greatest art galleries. So you will need a great deal of time to spare if you wish to enjoy a substantial experience of The Met's vast and unsurpassed collection.

The Met has an extensive collection ranging from the Stone Age to classical antiquities to the European masters of the Renaissance right up to Modern Art masterpieces and post-modern styles. Pretty well every category of world art is covered for you to learn from and enjoy. And all the while you can enjoy the majestic and graceful atmosphere of the gallery complex, visit one of the 30 or so annual exhibitions, enjoy a fine cup of coffee or a meal, or buy some books and posters in the beautiful Met Store.

The exhibition space of more than 2 million square feet (190 thousand square meters) testifies to the scale of the museum's collections. And the 17 curatorial departments testify to the breadth and scope of the ever growing collections. The Met experience is a thoroughly enjoyable way to spend time in NY, absorbing the atmosphere of some of the finest art ever created from pretty well every culture around the world. The museum truly lives up to its world famous reputation for quality and scope.

Coney Island

Coney Island is located in south Brooklyn. The island (now a peninsula partly connected by landfill) is most famous for its amusement parks, and reached its zenith in the first half of last century. Its resort history actually began in the early 1800s when the island became a popular destination for holiday makers from more populous NY boroughs. In the 1900s, with advances in travel infrastructure, Coney Island became popular with day-trippers as well.

Visits to amusement parks like Luna Park, Dreamland and Deno's Wonder Wheel Amusement Park are a fabulous way to pass the time in NY. You can be thrilled by rides like the Wonder Wheel or The Cyclone (an old wooden roller coaster dating from 1927). You can also enjoy exciting sideshows, thrilling bumper cars and many other attractions. Brighton Beach and the Coney Island Museum are other popular and interesting features of the island.

The New York Aquarium had its origins in 1896 and is now located on the Coney Island boardwalk. The aquarium has a spectacular array of more than 350 species of aquatic creatures. A visit is sure to be entertaining and educational. The aquarium, being managed by the Wildlife Conservation Society, also conducts research and has a mission to increase awareness of oceanic ecology.

Central Park

Central Park is a public area cutting a vast and beautiful divide through the center of Manhattan. It comprises more than 800 acres (more than three sq. km.) It stretches 50 blocks from West 59th Street in the south to West 110th Street in the north. It is a beautiful mixture of landscape styles with lakes, bridges, paths, lawns and more than 25,000 trees.

The park is also popular with runners and cyclists and is also home to many other activities like bird watching, boating, horse riding, skating, baseball and rock climbing — you name it really. The park also contains Central Park Zoo and is an important entertainment venue as well. It is hard to imagine NY, one of the most densely populated cities in the world, without the calmness and green counterpoint that is Central Park. A wonderful place for rest and recreation amidst the bustle. It's a little bit like the soul of New York.

Madame Tussauds

Madame Tussauds Wax Museum is an incredible collection of more than 200 unbelievably life-like sculptures. You can see many of your favorite pop stars or revered historical figures right up close. Visit the VIP Room and "mix" with some of your favorite celebrities in a hot night club experience. Or enjoy the Cinema 4D Experience for a hi tech sensory 3D and 4D sensation of remarkable special effects. The museum is conveniently located in 42nd Street in the Times Square vicinity.

The wide collection of figures include political leaders like Barack Obama and John F Kennedy, pop stars like Elvis Presley and Alicia Keys, cultural figures like Princess Diana and Jacqueline Kennedy, and historical figures like Abraham Lincoln and Mahatma Gandhi. Madame Tussauds is a memorable destination and experience, with many many "people" to see, brought to life in realistic wax, in one convenient NY location.

American Museum of Natural History

The American Museum of Natural History (AMNH), founded in 1869, is one of the world's largest and most respected museums. The museum has over 30 million specimens in its vast collection, 46 exhibition halls within its 25 spacious buildings, a number of research labs and a formidable library with a very fine natural history collection. The AMNH is conveniently situated at Central Park West at 79th Street in Manhattan's Upper West Side. It is sure to be a highlight of your stay in NY.

The museum contains very impressive habitat displays, archeological and historical artifacts, historical models, fauna and flora dioramas, anthropological collections and much much more in its park-like setting.

It contains the world's largest collection of dinosaur and mammal fossils in the world. It holds the world's largest star sapphire, the Star of India at 563 carats. It has a full scale model of a blue whale. It holds a huge piece of the Cape York meteorite weighing more than 30 tons in the famous Hall of Meteorites. This is just a fraction of what is on display, you can spend endless time in the museum and still only see a part of the collection.

To highlight just one single feature of the AMNH, the Akeley Hall of African Mammals is a breathtaking display with 28 dioramas. With its origins dating back to some African expeditions early last century, the hall's exhibits are meticulous and realistic depictions of gorillas and other mammals in their natural habitats. At the time, the hall set a new benchmark for this type of display. A truly memorable place to visit.

Times Square

Times Square, also called "The Crossroads of the World" and known as the Theater District, is a major Midtown Manhattan intersection at the junction of Broadway and Seventh Avenue. Famed for its eye catching animated neon signs, no visit to NY would be complete without passing some time in Times Square at night.

The area is home to a wide variety of theaters, cinemas, hotels, restaurants, night clubs and other entertainment and leisure attractions. Important media organizations such as the New York Times, Viacom and Times Square Studios (the home of 'Good Morning America' from the ABC) as well as many important financial corporations are located in the district. As with much of NY, stylish classical buildings, such as the Paramount Building at 1501 Broadway, are mixed with newer modern skyscrapers of different styles. And at new year, Times Square is a famous gathering point for the night's celebrations and the New Year's Eve ball drop.

Grand Central Station

Measured by platforms (at 44) and with four more being planned, the two level Grand Central Station is the world's largest train station. It is a huge terminal in Midtown Manhattan at 42nd Street and Park Avenue. It is a grand building fronted on 42nd Street and dating from the early 1900s. It features a beautiful clock and sculpture featuring Mercury, Hercules and Minerva. The huge sculpture has a height of 48 feet (15m) so that passengers can easily see the time in NY.

Inside the building, the Main Concourse is the heart of the terminal, a beautiful and expansive space with a dramatically high ceiling. And at its center is the main info booth. On top of this is the famous four-faced clock, embellished with opal. Thousands of passengers check the time here every day. To the east is the Grand Central Market, a handy group of food shops. There are also restaurants in the Dining Concourse below the Main Concourse. By the way, the official name of Grand Central is actually "Grand Central Terminal".

George Washington Bridge

Spanning the Hudson River, the George Washington Bridge is a grand and mighty suspension bridge connecting Manhattan to New Jersey. The bridge has 14 road lanes, eight on the top level and six on the lower. With over 100 million vehicle journeys a year, the bridge is considered to be the busiest in the world. (See photo at top of page).

When this spectacular bridge opened in 1931, it was the longest main span bridge in the world. The main span is 3500 feet (1100 meters) long. The second lower deck was added in 1962. The structure of the bridge, with its two spectacular steel towers, is dramatic and beautiful. The bridge was described by Le Corbusier as "the most beautiful bridge in the world."

Pedestrians and cyclists can cross the bridge via the South Sidewalk, where they can see a fine view of Manhattan, the New Jersey Palisades and the river. The Manhattan entry is via 178th Street, while the New Jersey entry is via Hudson Terrace.

Wall Street

Wall Street is NY's financial center, and stretches for eight blocks from Broadway in Lower Manhattan. This is the location of the New York Stock Exchange (NYSE), the world's largest measured by market capitalization. Wall Street is very popular with tourists, who spend much time absorbing the atmosphere of the famous district. Popular destinations include Trinity Church, the NYSE itself, the Federal Reserve Building (which has a gold vault deep below, reportedly the world's most valuable) and the Charging Bull sculpture in Bowling Green Park. A great destination for those with an interest in investing and the sharemarket.

There is also a wide variety of impressive skyscrapers in the district such as the magnificent American International Building standing 952 feet (290 meters) tall, Federal Hall National Memorial at 26 Wall Street with its classical Greek architectural style and more modern styles such as Deutsche Bank.

Bronx Zoo

The beautiful Bronx Zoo is located at 2300 Southern Boulevard, Bronx Park. It is comprised of 265 acres (107 hectares) of habitats and is managed by the Wildlife Conservation Society. Bronx Zoo is the largest city zoo in the USA, and is home to a very diverse range of more than 4000 animals and birds (and insects). Be sure to allocate plenty of time for your zoo visit, a visit is entertaining, educational and fun, all at the same time.

The spacious and diverse outdoor and indoor exhibits are divided into themes. In the Outdoors, for example, the African Plains exhibit displays a fabulous selection of lions, giraffes, zebras and much much more. The Congo Gorilla Forest exhibit displays many gorillas and monkeys. And the popular Wild Asia Monorail displays elephants, rhinos and tigers via monorail.

Indoor exhibits such as Jungle World and Madagascar are also tremendously interesting and educational ways to have a great time in NY with their spectacular displays of animals and birds. Bronx Zoo is a popular and memorable destination for families from around the world.

Guggenheim Museum

The Solomon R. Guggenheim Museum, in New York's upper east side, is a world famous architectural masterpiece designed by Frank Lloyd Wright. Equally famous is its renowned collection of modern, contemporary, impressionist and post-impressionist works of art. This is a very fine collection, a superb folio of art masterpieces representing paintings from the mid 19th century up to the present day.

The museum features an innovative internal spiral design which took Frank Lloyd Wright 15 years to complete. Paintings are displayed as you wander up the unique spiral wall structure, past the annexes filled with exhibitions, all presided over by the majestic skylight in the central roof. Overlooking Central Park, the museum resides at the corner of 89th and Fifth Avenue. It is a masterpiece architectural icon full of artistic masterpieces.

Among the masterpieces of the legendary collection are works by Pablo Picasso, Marc Chagall, Wassily Kandinsky and Amedeo Modigliani, to name just a few. The Guggenheim Foundation has worked tirelessly for many decades to acquire new works and collections, and this is why the museum enjoys such a legendary status today. A visit will be sure to ensure you have a truly great time in NY. A trip to the Guggenheim Museum is a truly must-see and memorable experience.

Staten Island Ferry

The Staten Island Ferry provides passengers with a free ride on the 5 mile (8 km) trip between the elegant Whitehall Terminal (4 South Street) in the southernmost tip of Manhattan and St. George Terminal (1 Bay Street) Staten Island. This is a truly majestic boat trip - you can see a superb view of Manhattan's spectacular skyscrapers and bridges like the Brooklyn Bridge, myriad boats and ships, and a wonderful view of the iconic Statue of Liberty and Ellis Island. Yet the time taken for the trip is less than 30 minutes.

On a busy weekday, the ferries make more than 100 trips to serve around 60,000 passengers. They operate 24 hours a day, 365 days a year. In peak periods they typically operate every 15 minutes, at other times, typically every half hour (weather permitting). On weekend days there are around 70 trips scheduled. The latest ferries can carry around 4,000 passengers and are generally around 300 feet (100 meters) in length. The service is of course extremely popular with tourists. It can be windy and cool on deck so choose your clothes with this in mind.

The Staten Island Ferry service has a long and proud history. From its origins in the 1700s via private sailboats (known as peraugers), the service later graduated to steamships which were used for more than 150 years until being phased out in the 1980s in favor of the more modern fleet in use today.

Whitney Museum of American Art

"The Whitney" is an important exhibition of modern American art, and includes a special focus on the work of promising, living artists. The museum's collection of more than 18,000 works covers the period from the 20th century to the present. Aside from paintings and drawings, The Whitney also features prints, photography, sculpture, videos and installation art. Some of the famous artists represented include Jackson Pollock, Andy Warhol, Man Ray, Willem de Kooning, Robert Rauschenberg, Cindy Sherman, Keith Haring, Grace Hartigan and Jasper Johns.

The museum had its origins in 1918 when Gertrude Vanderbilt Whitney founded the Whitney Studio Club with the noble aim of featuring contemporary American artists. A little over a decade later, after close to 700 works had been collected, Whitney decided to found a more formal permanent museum. As the needs of The Whitney grew over the following decades, the museum moved and upgraded a couple of times until moving into its present building, completed in 1966. Plans are already in place for another major move in 2015. The Whitney Museum is currently located in Madison Ave at 75th Street in the Upper East Side of Manhattan.